Have been a customer of Allied for many years.  My whole family have had excellent care from detailed eye exams to help with cataracts.  Glasses, sunglasses, contacts, eye injuries...we have gone through it all and the people at Allied have always treated us like they were treating a family member....
Visit our Optometrists in Lawrenceville, Plainsboro, Flemington and Robbinsville
When was your last visit to the eye doctor? Whether you need an annual eye exam, a consultation for contacts, a new prescription for your eye glasses, or eye glass frame fitting, it is important to visit an optometrist at least once a year. At Allied Vision Services, our optometrists, Dr. Markus Barth, Dr. Stuart Kolber, Dr. Paul E. Neiheiser, Dr. Alexander McGowan, Dr. Joseph Tobias, Dr. John J. Russo, have the credentials, experience and expertise you need to ensure your eyes are properly cared for.
Our eye clinics provide optometry and eye exam services to Lawrenceville, Plainsboro, Flemington and Robbinsville. Visit our optometry clinics for all of your vision and eye care needs.
Looking for an Optometrist in Lawrenceville, Plainsboro, Flemington or Robbinsville?
While most people schedule regular check-ups with doctors and dentists, many are not aware of the importance of an annual visit to the eye doctor. Regular eye exams can be the key to the early detection and treatment of emerging vision problems, eye diseases and a number of other health issues. When you come to Allied Vision Services for an eye exam, you will receive comprehensive service designed to find and correct any vision or eye issue you may or may not be aware of. Don't take good vision for granted, schedule an appointment today!
At Allied Vision Services our focus is on you
Our eye doctors have been providing friendly and personalized service, along with high quality eyecare and eyewear for over thirty years. Our philosophy is simple: offer the best and take the time to do it right.
Q&A with Dr. Neiheiser
Dr. Neiheiser Answers Your Eyecare Questions
I have noticed that some eye doctors' offices offer to take photos of the inside of your eyes, even though it isn't covered by my insurance – is this a good idea?
Yes, it is. Photography, or imaging, as we like to say, has come a long way. Not too many years ago, grainy polaroids were state of the art. Not anymore. Most imaging instruments take much more than just a photo. They capture high definition images of the different structures of the eye: the retina, nerve, blood vessels.
They can even capture problems on the outer parts of the eye – like a suspicious lump on the eyelid or dark spot on the iris (the colored part of your eye). Images can be magnified and enhanced in ways to show details that the doctor wouldn't normally see.
It's become an effective way to detect problems earlier when they are more easily treatable. Once taken, these images are a permanent part of your record.
Many times, imaging is done when there is a medical need – for example, to analyze a tear in the retina, to see leaky diabetic blood vessels, or document an optic nerve with glaucoma.
These are medical in nature and the doctor will order them. They are typically billed to your insurance company.
We are always striving to give our patients the best care possible. New technology and caring doctors make that happen every time you enter our office.
Our new Fundus Camera in Plainsboro is the most advanced technology used to detect eye disease.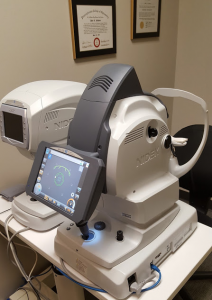 "Does My Kid Need To Get Their Eyes Checked?"
Watch this video to find out how vision impacts their learning experience:
Aug 19, 2016
Since studies show that learning is 80% visual, children with...
Jul 30, 2016
We have all seen the futuristic thrillers that use high-tech...
2495 Route 1 # 8
Lawrenceville, NJ 08648