Dr. Paul E. Neiheiser and Dr. Stefanie Hwang
Eye Doctors – Plainsboro
(609) 275-8989
10 Schalks Crossing Road
Plainsboro, NJ 08536
The Eye Care Team at Allied Vision Services in Plainsboro welcomes residents of nearby West Windsor (see directions below). It's important to have regular eye exams whether or not you wear eye glasses or contact lenses. Dr. Paul E. Neiheiser and Dr. Stefanie Hwang, your Plainsboro Optometrists, will take care of all your eye care needs:
Eye Exams
Comprehensive Eye Exam
Contact Lens Exam
Medical Eye Care Services
Diabetic Eye Evaluation
Dry Eye Treatment
LASIK Consultation
Cataract Consultation
Red Eye Exam and Stye Treatment
Foreign Body Removal
Ocular Allergy Treatment
Glaucoma Screening and Treatment
Looking for an Eye Doctor in Plainsboro?
Dr. Paul E. Neiheiser and Dr. Stefanie Hwang's eye clinic in Plainsboro is conveniently located to offer our comprehensive eye care services to residents of West Windsor. Using only cutting edge technology and techniques, our Plainsboro Optometry Clinic will help to improve and preserve your vision so you can see and feel your best.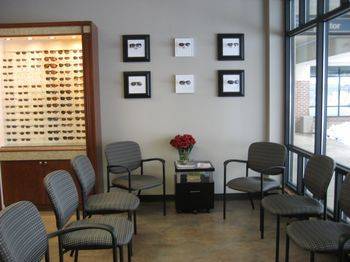 We've Expanded!
We've expanded!  In January 2021, we made our office larger, annexing the vacant space right next to us.  Plans began before the pandemic.  Once shutdown occurred in the spring of 2020, everything was put on hold.  With added priority for physical distancing, we thought it more important than ever to move forward with our expansion when we reopened.
More exam rooms, larger pre-testing rooms and business offices makes spreading out easier. Increased space for patients and staff creates a safer and more efficient environment for everyone.  You'll still get the care and friendliness that you've come to expect - only with more room to do so. 
New Technology
Annual eye exams are vital to maintaining your vision and overall health. We offer the optomap® Retinal Exam as an important part of our eye exams. The optomap® Retinal Exam produces an image that is as unique as you fingerprint and provides us with a wide view to look at the health of your retina. The retina is the part of your eye that captures the image of what you are looking at, similar to film in a camera.
Below is our Visual Field machine, also known as an Automated Perimeter. It is used to test peripheral vision, to help detect glaucoma, optic nerve damage, retinal disease, and brain injury.
Directions from West Windsor to Allied Vision in Plainsboro NJ:
Take Quaker Rd to Penn Lyle Rd
1 min (0.4 mi)
Continue on Penn Lyle Rd. Take Clarksville Rd, Millstone Rd, Grovers Mill Rd and Edgemere Ave to Schalks Crossing Rd in Plainsboro Center
10 min (3.4 mi)
See You Soon!